News
COVID-19
Due to the recent Coronavirus COVID-19 Pandemic and the recent changes to the Ontario Order to "non-essential services", we would like to assure you that our auctions will still be taking place with a few modifications to the sale process.
IMPORTANT REMOVAL INFORMATION - COVID-19
Curbside Pickup Available for hand carry & smaller lots. All other lot removals to be coordinated with Site Supervisor or An Approved Machinery Mover.
We will do our upmost to ensure all Customers are as safe as possible during the inspection & removal processes. We encourage you to practice social distancing while on site. Hand sanitizer and gloves will be made available to anyone who enters the auction site.
If you are experiencing any symptoms of illness or have travelled out of county in the last few weeks, please DO NOT attend the auction site.
We will continue to closely monitor this situation as it evolves and apply appropriate responses and actions.
Read More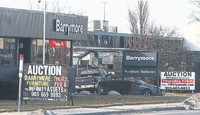 February 2020
2020 is here and heating up! During the last quarter of 2019, Infinity conducted (10) Auction sales including Paper Mills, Late Model CNC Machining Facilities, Woodworking Plants as well as Large Distribution Fulfillment Centers.
To Date (3) Auctions have been completed so far this year, the most recent being the Iconic Barrymore Furniture Gallery which attracted over 550 On-Line bidders and exceeded projected sales recoveries on both the Retail Showroom Furnishings and Machinery & Equipment.
We have several more auctions on the horizon including CNC Machining & Fabrication Plants, Paper Mills, Steel Fabrication & More.
Please stay tuned for future updates!
Read More