From Surplus Equipment Auctions and Machinery Auction Services to Appraisals and Audits, Infinity Assets has got you covered!
Infinity Asset Solutions: Your Trusted Provider Of Full-Service Asset Solutions
Our Mission
We understand the importance and nuances of the asset solutions industry. Hence, we provide full-service asset solutions for businesses of all sizes and varieties, irrespective of their niche. So rest assured as our team of experienced and highly proficient auctioneers and professionals help you obtain the best value for your assets.
At Infinity – "There Is No End To What We Can Do For You"
With over 85 Years of combined experience in the asset solutions industry, Infinity is considered to be the leading expert at offering great value for our clientele's industrial machinery, equipment, real estate and other miscellaneous inventory. Our experienced and professional team also provides comprehensive asset valuation services for acquisitions, collateral-based lending or asset disposition. Furthermore, we closely collaborate and work with individuals and companies to offer well-organized industrial machinery auctions and commercial auctions. At Infinity Asset Solutions, our ultimate aim is to help you with your business liquidation as effectively and efficiently as possible.
The company's impressive repertoire includes organizing machinery auctions and surplus equipment appraisals for a plethora of industries such as metalworking, woodworking, steel fabrication, plastics, printing and more. Apart from these diverse industries, our esteemed clientele includes financial institutions, insolvency and advisory practitioners, private business owners and leasing companies.
We are a full-service asset solutions provider servicing public and private companies of all sizes in the following industries:
Retail & Business Liquidation Service

Metal Working

Metal Forging and Foundry

Construction and Civil Engineer

Textiles and Garment

Packaging and Distribution

Energy and Oil Field

Food and Beverage Processing

Chemical Processing

Printing and Bindery

Pulp and Paper

Wholesale Commercial
Primary Metals and Scrap

Stamping

Woodworking

Computers

Metal Forming

Automotive

Plastics and Rubber Moulding

Biotech and Pharmaceutical

Forestry and Sawmills

Electronics

Recycling Facilities

Steel Fabrication
Our Services
At Infinity Asset Solutions, we are dedicated to aggressively marketing your assets and organizing machinery auctions to create more exposure for your inventory and bring in an impressive selection of buyers and sellers. Here is a brief summary of all our services:
AUCTIONS: Organized in person or online to bring the best value for your surplus or used equipment by attracting clients on a global scale.
APPRAISALS: Detailed assessments designed to accurately and fairly provide the best possible value for any machinery, equipment or inventory.
LIQUIDATIONS: This covers conducting a liquidation sale, monetizing assets and reducing inventory.
FINANCING: Offering credible loans for companies on short notice on the basis of any business's tangible assets.
ASSET REMARKETING: Obtain optimal value for surplus equipment via our extensive, global customer base.
AUDITS: Working closely with banks and financial institutions to provide asset audits with honesty and integrity.
Thus, when it comes to organizing a machinery auction, equipment appraisal or audit, we have got you covered. Our company is also affiliated with numerous governing bodies and organizations in the asset solutions industry such as The Auctioneers Association of Canada, Industrial Auctioneer Association, National Auctioneers Association, Canadian Personal Property Appraiser's Group and more, which further cements our credibility in the industry.
Stop wondering if someone can help set up machinery auctions near me and contact us at Infinity Asset Solutions today!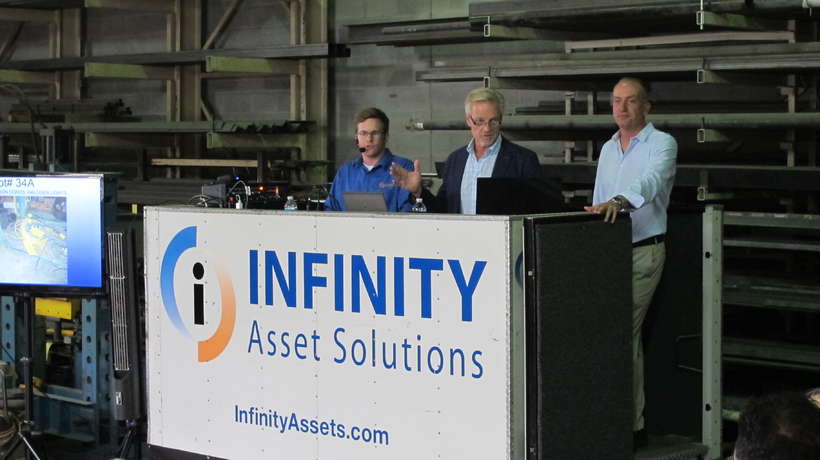 Industry Affiliations